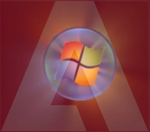 Yesterday I received my so much awaited CS3 Master Jedi (I hope it's a good sign for my exams). Full of joy I inserted the first DVD and launched the setup … and nothing happened, not even an error, just nothing (imagine the frustration).
Hopefully the solution is the same as I already wrote about using the single trial software, only a few more steps are required.
So here are the 4 steps: do it carefully, but here you got a working solution:
To begin uninstall all the previous Adobe stuff on your drive, Adobe released an uninstaller doing this very well. They offer two levels but in fact there are 4 (level 4 will erase Adobe and Macromedia stuff)
Uninstall done? Great, now we need to have sufficient right to do the installation, simply run the command prompt (as an Administrator) and type in "regsvr32 jscript.dll".
Turn your anti-virus and firewall off, who said that security and user friendliness wasn't compatible?
Launch the setup.exe from the DVD, and it should work, now just wait that the 4 DVDs get installed (I'm writing this post, smoking a cigar and drinking a Pastis 😉 )
Now you just have to install the add-ons contained in the Master Suite.
Enjoy great Adobe stuff now!
Ahmet