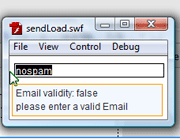 Finally, I found the time to make a new video tutorial about AS3:
How to send and receive values to/from a database with Flash CS3 and ActionScript 3.0. Using a server sided script (in this example php).
Basically it will do simply what you could do so hardly with AJAX: asynchronous request.
I used Captivate this time and I hope it will be more easy to understand and to learn at your own pace. You can see the new video tutorials on my AS3 page.
As usual you can also found the source (php, fla, as).
By the way I want to thanks all of you who send me email about those video tutorials, I always appreciate it 🙂
Ahmet