I had the opportunities to ask some questions to John Holland, the Co-Founder and Chief Marketing Officer at Searchme.
Searchme is a new search engine that uses visual search and category refinement, displayed with the Flash Player.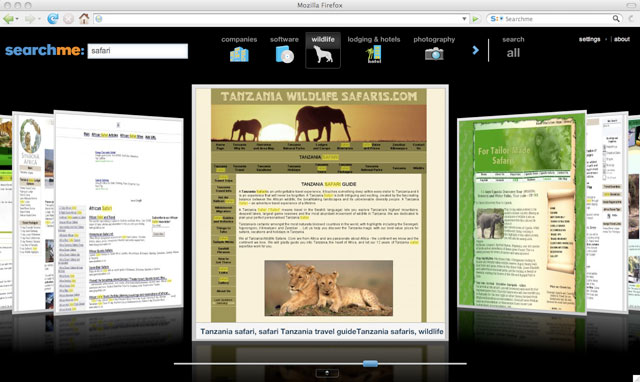 Searchme lets you see what you're searching for, why is that so important to 'see' what we are searching versus reading?
Basically, because you get more information, instantly, from an image than you get from reading text, so you can decide more quickly if a site is right for you. We call it "visual relevance".
We enable users to quickly see pictures of the pages in the results, which helps them in two ways. First, they can quickly scan the pictures and identify features like images, headlines, and brands that catch their interest. no more "click, back… click, back." Our images supplement the traditional text abstract, which we also provide. Second, searchers can also visually ~reject~ pages, pages that don't look useful or relevant.

A visual image provides users with additional data than can be useful in evaluating both individual search results and a set of search results.
You are using the Flash Player to render the results, what was the technical reason to do so?
Flash is a robust platform for developing rich internet applications.
What are the objectives of Searchme?
Our main goal is to help Internet users find what they're looking for, quickly, and avoid what they don't want. We're just getting started – we're in private beta and we're working daily to improve our relevance and speed. We're very aware that we don't have everything yet, but we're working on it.
Will Searchme provide an API for developers?

We haven't announced anything, but we think it would be great to have third-party developers as part of the search me ecosystem.
Results are sorted into categories, have you got your own search engine or do you use Google, can you give use some insight about how the search is working?
It's our own search engine. We built it from the ground up, so we could optimize it for category suggest and visual presentation.
You imaged billions of web pages, will these images be free to use for others?
Again, we haven't announced anything yet, but we are exploring many different ways to open up our assets to the Internet.
What would be the best scenario for 2008 – 2009?
To forge relationships with happy, loyal searchers. This is just the beginning, and we have a lot of exciting work to do. We're continuously refining our relevance and experimenting with new features and functionality. Our plans are to keep improving our core engine and visual interface based on feedback from our users. In fact, if you have any suggestions, we'd love to hear them. Let us know.
They are no advertisement so far, what is your business model?
So far we've been focused on creating a great search experience, so we haven't been focusing on it. We'll be incorporating ads in the future, and we'll look at putting ads on the page and in the results, but we don't know yet. We'll see.
Give it a try, the categorization is really handsome also don't hesitate to send them your feedback.
Ahmet