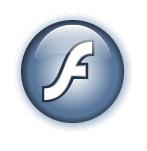 A brief history
Flash Lite is the player of "Adobe Flash Player" specifically designed for use on mobile phones.
Version 1.0 was launched in February 2003 in Japan, Flash Lite adoption has been quiet successful with 25 different Flash Lite pre-installed handset models.
Since October 2005 version 2.0 exist.
Flash Lite 2.0 features
– Video playback (depending on device capabilities)
– External XML parsing
– Local, persistent data on the device
– Loadable external images and sounds
– Network Acess and Connectivity
– Scaleable Rendering Engine
– Static, Dynamic Text and user input
– Navigation and Key Events
– Access native device properties
Java 2, Micro Edition versus Flash Lite 2.0
Today Java have a greater reach on mobile phone (2.5 billion Java enabled handsets) as they started earlier than Flash Lite (77 million flash-enabled mobile phone handsets today, expected to rise around 216 million in 2010). Tough Adobe have signed with top operators to distribute flash on mobile phone.
One of the problems with Java is that their early move into mobile was done through many different implementation of Java on phones, making it not a consistent implementation. This phenomena is observable when downloading Java application, nearly as many implementation as the supported mobile phones, which dramatically increase implementation time to deploy application. Flash Lite does not have this issue.
One of the problems with Flash Lite is the interoperability with mobile device. Accessing Bluetooth data is impossible.
Both have an advanced programming model, with Object Oriented Programming.
Flash offers object-orientated features such as interfaces, inheritance, and encapsulation.
Flash key strengths for macromedia solution include :
– Shared and proven platform development environment
– Established developer ecosystem of over 1,3 Million Flash developers
– Proven carrier and handset manufacturer adoption
– Able to be deployed at any time during the handset development process
Java and Flash aren't head-to-head competitors on mobile devices, those technologies can be use together.
Flash Lite supported device

Handset Manufactures supporting Flash Lite are :
Fujitsu, Hitachi, Kyocera, Mitsubishi, Motorola, NEC, Nokia, Panasonic, Sanyo, Sendo, Sharp, Siemens, Sony Ericsson, Toshiba.
Operators are :
KDDI, NTT DoCoMo, Vodaphone KK
PDAs are :
Microsoft Pocket PC, Sony CLIE
Consumer Electronics and Other are :
Moxi Digital, Microsoft TV MSTV, Nokia, Thomson Multimedia TAK, IRiver, CorAccess, Kodak, Siemens
Reasons for embracing Flash Lite
The principal reasons for embracing Flash Lite are:
– Easy adaptability
– Cost and time effective deployment
– Author once and deploy on multiple platforms
– Easy refreshing / re-skinning of content
– Easy and quick porting of content
– Satisfies user curiousness for newer and richer content
– Visually appealing content as compared to other platforms
Ressources
– Kevin Lynch talks about FlashLite
– Technology News: Mobile Devices: Mobile Phone Converging With 'Flash,' Other Apps
– Getting Started With Flash Lite
– Adobe Flash Lite
– David Rivas, Mobile Systems Group CTO, Sun