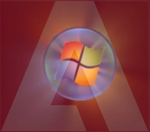 *** Update : For people having the CD installation, not the CS3 trials only, this post should be more useful: How to install CS3 Suite in 4 steps on Vista. ***
Yesterday I tried to install some of the CS3 trials and could only get the installation to return a : installation could not be completed.
Well it's so not friendly when you just have a « there was an error » message. There is surely a way to get the error code but I'm still discovering Vista (maybe someone can help me?).
After reading a lot of Forum and trying a lot of think I finally found a solution. In my case I'm on Vista Home Premium Edition.
The following worked:
1- Close antivirus and firewall.
2- Run the Adobe Extractor (the downloaded file) as an Administrator.
It will create a folder: Adobe CS3.
3- Go to this folder and select the folder program you want (DW9, FL9, …).
Again go to a folder called Adobe CS3 and run setup.exe as an Administrator, for me it worked! The most important in my case was to turn the Antivirus and Firewall off.
For me it worked for DreamweaverCS3, FlashCS3 and PhotoshopCS3 extended 😉
Btw I'm not sure if it had an influence or not but if it doesn't work like this you may want to open the Command Prompt (as an Administrator) and type: regsvr32 jscript.dll a dialog box will appears: "DllRegisterServer in jscript.dll succeeded". Then try installing again.
I hope this will save time to someone 😉
Ahmet