I have read around recently about Flash Lite business cards, so I thought i would post mine.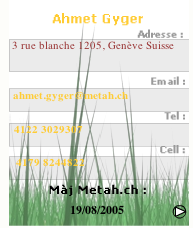 It was done with Flash Lite 1.1.
It's simple dynamic textfield loading the data from a txt file online.
So if I have to change my phone number, my address or anything else it will directly be updated the next time you open it.
I added some options :
A button for calling getURL("tel:555-1212");
A button for opening the mail app getURL("mailto://hello[AT]metah.ch");
A button for sending me sms getURL("sms:555-1212");
If you want to test it you can download it to your mobile.
Right click this link to download it (and Save As)