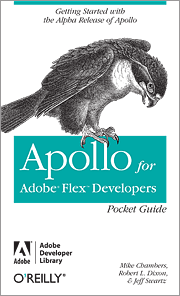 One week ago I wrote about the new book from O'Reilly: Apollo for Adobe Flex Developers. Now this book is free to to download directly from the labs.
The main Chapter are :
Introduction to Apollo
Getting Started with Apollo Development
Using HTML Within Flex-Based Apollo Applications
Using the File System API
Apollo Mini-Cookbook
So now there is no more excuse not begin to studying Apollo 😉 We just need to have an alpha under the finger… that's true, but it shall be coming soon, I hope.
Ahmet