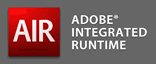 Just read on Paul Robertson blog's about some features offered with AIR and local database. The news has been out from some times now but I haven't seen example of this before (I'm in exam period that may explain it…).
Well anyway the post is interesting and give the link to the Livedocs : "SQL support in local databases".
You can also see the unsupported SQL features.
Ahmet