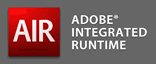 Daniel Dura has posted on his blog two presentations (introduction to AIR & Flex 3) he made during some events (AIR tour & MAX).
Along with his presentations is an archive of Flex Builder project, that contain most of the code he showed.
Here is the list of sources you'll find in the archive:
Application Icons
File Icons
HTML Display
Local Store
Native Drag
Native File Dialogue
Native Windows
Object Serialization
Service Monitor
SQL Insert Performance
Transparent Windows
Still here? Go ahead and download this archive from Daniel's blog.
Ahmet